Wednesday, April 16th, 2014.
---
After many months of hinting about the coming of the Particular Service Platform, it's finally here.
For everybody who has been building message-driven systems on .NET – I really do believe that this is the dawn of a new era (and if you know anything at all about me, you know that I don't tend to exaggerate).
What is it?
Imagine designing your solution by graphically creating endpoints and messages, seeing the routing laid out in front of you visually, being able to specify system wide error and audit queues, having your cross-cutting authentication applied automatically to all endpoints, correlating events together into sagas, pressing F5, and as everything springs to life, on your second monitor you can see the messages flowing through your specific debug session synchronized in real time as you step through your code.
Well, you don't have to imagine – that's now a reality.
Top that off with some nice production monitoring that includes heartbeats for all of your endpoints, notification of message processing failures (with the ability to send them back for reprocessing), and some cool extensibility to plug in your own custom checks.
It's a whole new world of service-oriented development.
This short video will give you a sense of what it's like: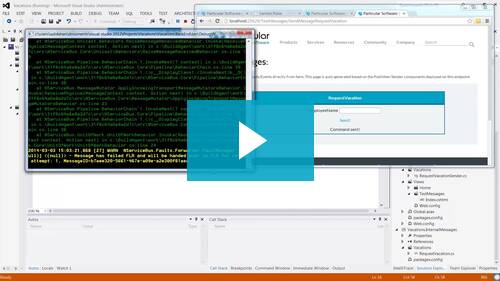 Here's some other things you might find interesting.
Testing you can trust
I'll bet you didn't know the level of testing that we're now putting into each release.
Every time we put out a new release, we test it on cloud servers configured across all permutations of transports, containers, persistence technologies, server operating systems, as well as for compatibility with previously released versions 2 years back (!). This way, when you want to have a new system subscribe to events published by a system already in production, you'll know that it will all "just work" – no matter what.
Running all of these tests in the cloud is something that we could never afford back when we were a regular free/open-source project, but is definitely worth it. We know you count on us for your mission-critical systems and will continue doing our very best to be worthy of that trust.
The roadmap
Now that the platform is out, the next big thing you can expect is the removal of all distributed transactions.
Over the past months (and even years) we've been making preparations for this, making all sorts of small backwards compatible changes and enhancements so that we can fully control the inbound and outbound behavior of messages. The investments we've been making in automated tests is also in support of this. We want to be absolutely positive that you will get the exact same logical behavior as before without losing any of the transactional guarantees you've come to expect from NServiceBus.
We'll give you updates on this and the other things we're working on soon, as part of our larger roadmap so that you'll know roughly what kind of big features you can expect and when. Of course, we always leave some "slack" in our iterations for working on critical patches, enhancements, and refactoring.
In any case, the main idea here is for you to be able to give us feedback and input on what's important to you and for us to communicate back what we will be able to commit to and when.
Expressing our thanks
It's been quite a journey this past year – the company has doubled in size and we've really got a great group of people here. While we're constantly looking ahead and seeing all the wonderful things that we want to do, I wanted to take a moment and look back.
It's been almost two years of work on ServiceMatrix (previously named NSB Studio) – the absolute biggest investment we've made. This past year was really the biggest push, and when taken together with all of the other tools – the production monitoring in ServicePulse that so many people have been clamoring for; the under-the-hood visibility of ServiceInsight; and the unseen glue of ServiceControl tying them all together; well, it was a very ambitious year.
I wanted to thank everyone who took part in our betas – your feedback was absolutely invaluable;
To our Community Champs who keep asking us the difficult questions and pushing us to do better;
To all of you in our community who have believed in us;
To the growing ranks of paying customers who voted with their wallets as well as their hearts;
You have my personal thanks as well as those of the entire team.
It continues to be an honor and a privilege.
Go and get it
That's it – go to www.particular.net and click the big "download now" button and take the new platform for a spin!
I can't wait to hear what you all think.

If you liked this article, you might also like articles in these categories:



---

If you've got a minute, you might enjoy taking a look at some of my best articles.
I've gone through the hundreds of articles I've written over the past 6 years and put together a list of the best ones as ranked by my 5000+ readers.
You won't be disappointed.

---


If you'd like to get new articles sent to you when they're published, it's easy and free.
Subscribe right here.

---


Follow me on Twitter @UdiDahan.



---


Something on your mind? Got a question? I'd be thrilled to hear it.
Leave a comment below or email me, whatever works for you.



Danny Fafach Says:
April 17th, 2014 at 5:16 pm

Awesome, keep up the great work!




Your comment...