Tuesday, August 5th, 2014.
---
Well, NSBCon London was a blast. It was such a blast that it took me this long to recover and get my head back into blogging. In any case, for those of you who couldn't make it, check out this short 2-min video to get a feel for what it was like:
The venue was packed, the speakers were great, and all in all the conference was a smashing success. If you don't believe me <wink/> you can check out Roy Cornelissen's coverage here.
All videos now online
For those of you who couldn't make it, we have all the videos recorded for you and you can access them here.
Some of the cooler demos included:
Szymon Pobiega showing how he plugged the Event Store under NServiceBus for complete transport, subscription, timeout, and saga persistence – video here
Dylan Beattie videoing the audience with his iPhone and having that processed through NServiceBus and uploaded to their site in "real time" – check it out
Of course, I really think you should check out the full list.
Onward – to New York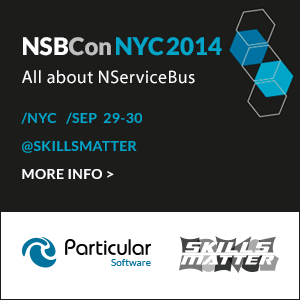 And for those of you in the US and Canada, we're happy to announce that registration is open for NSBCon New York!
The early bird is available until the end of this week (Aug 8), so you should really get going.
We've got some really great speakers lined up for you – Jimmy Bogard will be there, and we'll have both Oren Eini and Ted Neward speaking as well (who you might remember from the infamous ORM Smackdown).
And Carl and Richard from Dot Net Rocks will be there as well – rockin' it the way that only DNR can.
Hope to see you there!

If you liked this article, you might also like articles in these categories:



---

If you've got a minute, you might enjoy taking a look at some of my best articles.
I've gone through the hundreds of articles I've written over the past 6 years and put together a list of the best ones as ranked by my 5000+ readers.
You won't be disappointed.

---


If you'd like to get new articles sent to you when they're published, it's easy and free.
Subscribe right here.

---


Follow me on Twitter @UdiDahan.



---


Something on your mind? Got a question? I'd be thrilled to hear it.
Leave a comment below or email me, whatever works for you.



Your comment...